Welcome
to my world !
My name is Nounours.
I'm a famous teddy bear and I live in Paris. Thanks to my private webcam, you can know everything about me and become my friend !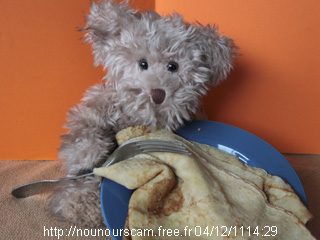 12/04/11 : Nounours is eating
"crepes", the french pancakes !
A new webcam shot every sunday !


French version

You are french
or you want to
practice your french ?
Nounours parle
aussi français...

Add a link
If you fall in love
with Nounours,
let's add a link
to Nounours on
your website !